Courses
Key Stage 4, National Curriculum, Human, Physical, Ecosystems, Rural Settlements, Coursework, Case Studies, Exam Knowledge and Investigative Skills.
Key Stage 5 - Biology, Ecological Techniques, Freshwater Ecology, Limestone Pavement, Microbial Ecology, Psammosere, Woodland Ecology.
Key Stage 5 - Geography: Physical Topics - River Channel Processes, Coastal Management, Ecosystems, Glacial Features, Limestone Landscapes, Psammosere, River management, Volcanic Landscapes. Human Topics - Rural Depopulation and Rebranding, Tourism & Recreation, Urban Land Use, Urban Regeneration and Rebranding. Ecosystem Topics - Management, Succession, Soils, Woodland Ecology, Pollution.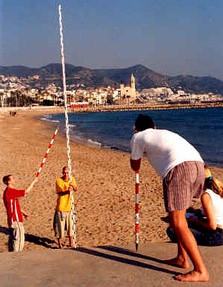 Sitges coastal management study
For further information on the work of the Field Studies Centre, please contact 0034 679579178 or email:
Barcelona Field Studies Centre
Apartado 30161
Barcelona
08080
Spain